An alphabetical MiniCOW City/Town/Village "letter hunt" Earn points and win prizes by collecting photos of yourself, your Mini/MINI, and "official City/Town/Village" signs from A-Z!
The idea is that you have to drive your Mini to 26 different towns all with names beginning with each letter of the alphabet A through Z. So Ault, Co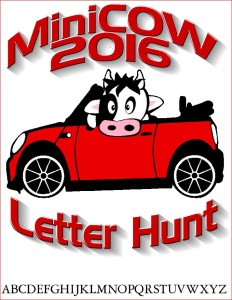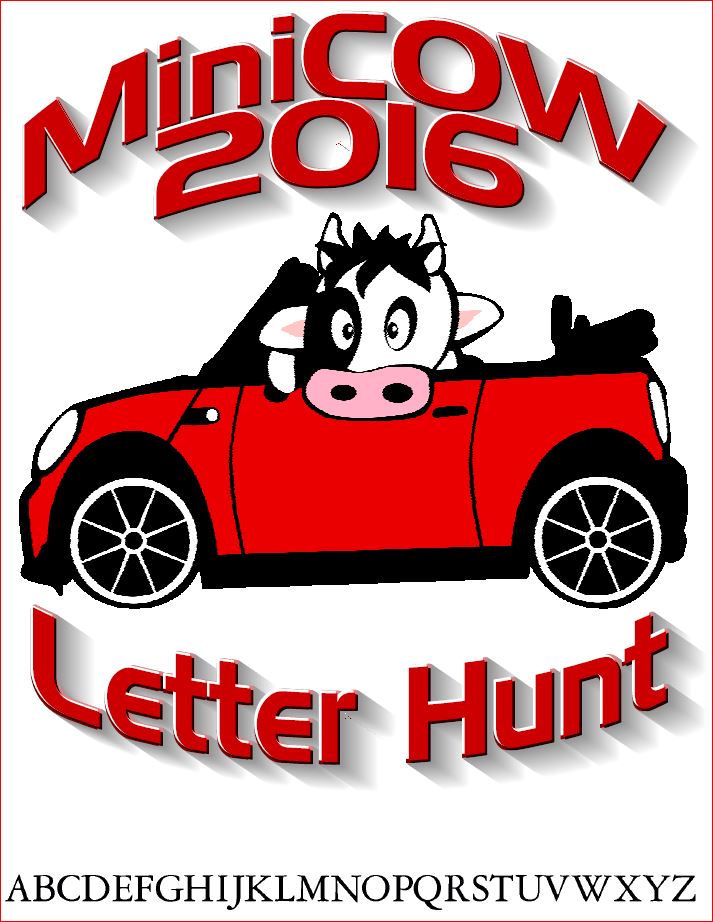 , Burns, WY, and Cheyenne, WY, would get you started with A, B, C. Or use Arvada, Co, Broomfield, Co and Colorado Springs, CO, as another example. For A, B, C. It doesn't matter where in the U.S.A. that you find the Towns/Cities or Villages.
PARTICIPATION
Any Official Member of Mini's of Colorado and Wyoming "MiniCOW" Mini cooper Car Club is welcome.
To become a member visit. http://www.minicow.org/contact-us/
Only one 2016 letter hunt entry per member.
Individuals participate at their own risk. Do not break the law or endanger yourself or others when taking photos.
PHOTO FORMATS
Images must be clear and names/signs must be legible in submitted images. Images that are blurred, fuzzy, illegible, or unrecognizable will not receive points.
PHOTO ELEMENTS
Your Mini/MINI must be in each photo.
The special MiniCOW Letter Hunt Picture must be clearly identifiable in each photo. Goto http://www.minicow.org/2016-letter-hunt/ to get your official "Letter Hunt" Picture.
You, the entrant, with your Mini must be in at least five of the photos.
An "official sign" must be in each photo. An official sign is defined as: A government building with the name of the city, village, town on it. An example of a government building is a post office, city hall, or police station. "The city sign" posted by a government body that is physically located within the boundary of the place it identifies. Mileage markers and directional signs do not qualify.
HOW DO I EARN POINTS?
One point for each city, village, town, township, or municipality sign
from A-Z. Only one point per letter. (26 points maximum)
SUBMITTING YOUR ENTRY
Submissions will be done via Email to MiniCOWContest@pawnee.com at the conclusion of the contest. (Do not send your emails throughout the year, wait till the conclusion of the contest and send all needed pictures/emails at that time)
Submissions will close on Thanksgiving. The reason for this is so prizes can be given out at the MiniCOW Holiday party.
One photo must be included for each point for which you are submitting.
Decisions of the judges are final. Prizes to be determined